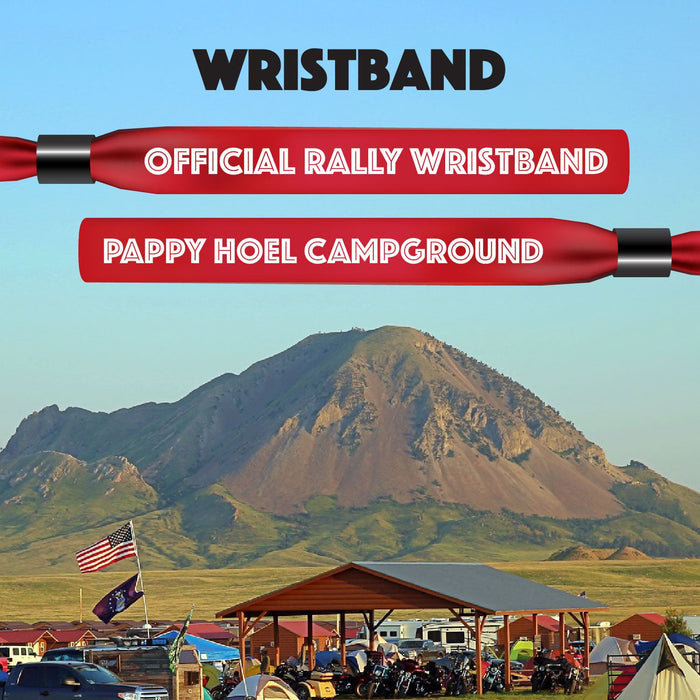 2024 - Official Rally Campground Admission Wristband Aug 2nd - Aug 11th
Official Rally Campground Admission
If you are just camping with a tent, this is all you need for each person to camp and enter all the Full Throttle Saloon concerts and events.
PLEASE NOTE that you may arrive prior to Aug 2nd however, you will have to pay the daily rates for early arrival, just as you would at any other campground, motel or hotel.  
Our legendary camping facility offers 600 acres spread out beneath the awesomeness of Bear Butte and all within a stone's throw of our bar, general store, concert stages and the worlds largest biker pool.
Tent camping and campground access wristbands include access to all amenities at Pappy Hoel Campground and Resort, concerts and entertainment. Campers may pick up purchased wristbands during camper or camping check-in at our General Store.
The purchase of one wristband is required for every guest.  Campground wristbands are picked up by customer named on order receipt only. Please indicate any additional names authorized to pick up wristbands for your order in the notes at checkout.
This purchase is non-refundable for any reason and is redeemable for the upcoming Sturgis Rally.  All products for sale are for pickup only.  No items will ship.  No Rollovers or Refunds.